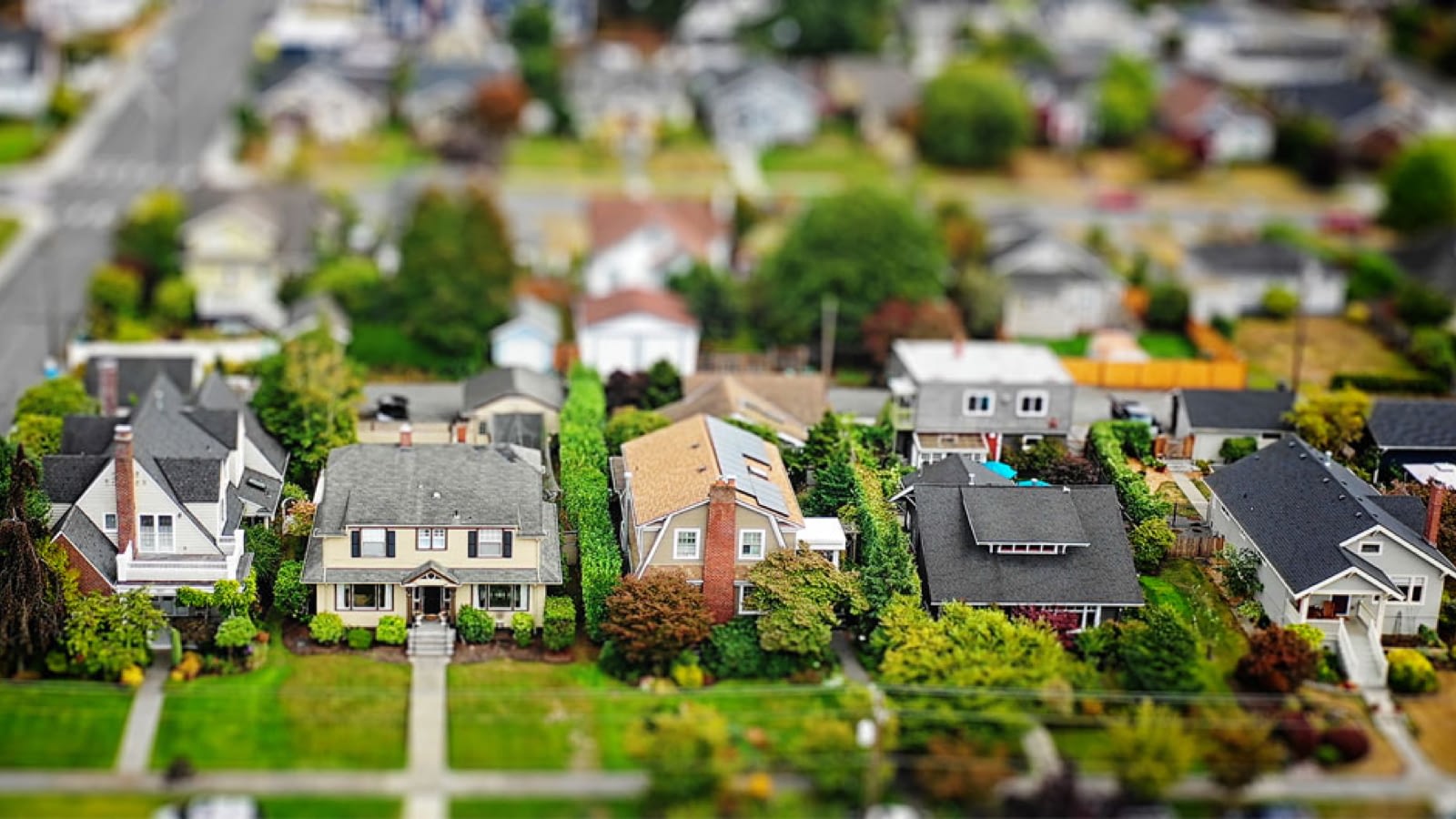 You've negotiated a good deal on your new dream home.
It's in the perfect neighborhood, and in great shape. Even better, those monthly mortgage payments won't stop you from going out to nice dinner once in a while or even heading off on vacation.
But hold on. Did you factor in the cost of homeowners insurance? The cost of homeowners insurance typically doesn't have a big enough impact that you end up stuck inside your new home without living it up outside of it. Still, it is extremely important to factor in insurance costs to figure out what's right for your situation—and your budget.
Of course, lenders almost always require homeowners insurance before signing off on the loan. And even if you're fortunate enough to not need a loan, you'll need good insurance to protect your investment.
So you know you need it, but how much are you going to pay for it? According to Realtor.com, the average annual premium costs about $952.
But depending on your situation you could pay more or less than average. Just how much relies on several factors that we will explore – including your deductible, the value of your home and belongings, your history of claims, and other variables such as the cost and age of your home.
SELECTING THE RIGHT DEDUCTIBLE FOR YOU
Your deductible is one key factor in how much you will pay. If you select a policy with a high deductible, the annual cost for your insurance policy should be lower. Of course, when you go to make a claim, you will pay more out of pocket to meet that deductible. Conversely, if you pick a lower deductible, the cost of your insurance will be higher, but you won't suffer sticker shock when it comes time to put in that claim.
Figuring out your household expense (and entertainment) budget is one way to decide on whether to go with a higher or lower deductible. Whatever deductible you choose, it's a smart idea to have that amount stashed away in your emergency fund so you're financially prepared in case you need to file a claim.
HOW MUCH COVERAGE IS ENOUGH?
While we're focusing on the actual cost of homeowners insurance, it's essential that you get the right amount of coverage. Specifically, you need enough insurance that would allow you to rebuild your home in the event of a total loss. In other words, don't pinch pennies by choosing a lower limit that will hurt you in the event of a catastrophe.
Ask your agent about replacement cost versus actual cash value. Replacement cost is typically the way to go because you could rebuild after a major loss without concern for depreciation.  And for added protection, ask your agent about ERIE's guaranteed replacement cost.
HOME IMPROVEMENTS COULD AFFECT COST (AND LIMITS)
Is your new home going to be move-in ready, or is it a fixer-upper? If you are planning on doing major upgrades to your home that will boost its value, keep in mind that the cost to insure it will likely rise as well. If and when you do a home improvement project, report that to your insurance company so they can adjust the limit if necessary.
If your 'home improvement' project is the result of major damage to your home, make sure you have what's known as "loss of use" coverage. That coverage can reimburse you for hotel costs or apartment rental if your home is a total loss, or if it becomes uninhabitable after a covered loss. You would want that reimbursement if you're forced out of your home while repairs are made.
MAKE SURE YOU HAVE ENOUGH LIABILITY COVERAGE
Lawsuits are pretty common these days, and they can be extremely costly. That's why you should make sure you buy an appropriate amount of coverage. When you buy homeowners liability coverage, you're investing in peace of mind.
Homeowners liability coverage protects your assets in case someone gets hurt on your property. You might not realize this, but it also provides coverage for some incidents away from the home. You might also want to consider a Personal Catastrophe Liability policy, which adds another $1 million to $5 million in liability coverage to your homeowners as well as your auto coverage.
THE VALUE OF YOUR HOME AND YOUR POSSESSIONS
It's a pretty simple formula – if your home costs more, you're going to pay more to insure it. That's why you need a good, solid assessment of your home's worth. It also helps to estimate the value of your personal possessions through a home inventory.
See also: How to Start Your Home Inventory (It's Easier Than You Think!)
Also, you might want to consider an appraisal for high-value belongings and talk to your insurance agent to see if you should consider any supplemental coverages to make sure your valuables are properly covered. Learn more about personal valuables insurance from ERIE.
YOUR HISTORY OF CLAIMS
When it comes to insurance, your past can influence your future. How much you pay for homeowners insurance can be significantly affected by how many claims you've made previously. It stands to reason that homeowners with fewer claims would pay less, and those with more claims would pay more. Those with more claims are proven to be a higher risk for insurers.
GEOGRAPHY
Geography — as it relates to frequency of natural disasters — also plays a role in your costs. If your home is near an area that is prone to hurricanes, tornadoes, or forest fires, your homeowners insurance is going to be more expensive. Learn more about how named storms affect your insurance coverage.
CUSTOMIZE YOUR COVERAGE WITH ENDORSEMENTS
Think of endorsements as added options to customize your policy. At ERIE, we have a bunch.* For example:
Sewer or drain backup: You probably don't think about your sewer or drains backing up and swamping your home – that is, until it happens. This coverage can help clean up the mess. Sewer and drain backup coverage covers loss caused by water or sewage that backs up through sewers or drains or overflows from a sump pump.
Identity Recovery Coverage: Add on this coverage for a low annual fee to help restore your credit in the event of identity theft or fraud. You'll also get your own dedicated case manager who will walk you through the process step-by-step. Learn more about identity recovery coverage from ERIE.
Available endorsements differ by policy and state, so check with your ERIE agent about which ones are the best fit for you and how much they'd cost to add on.
WHAT ELSE CAN AFFECT THE PRICE OF MY HOMEOWNERS INSURANCE?
There are several other factors that could influence how much you pay for homeowners insurance.
The age and condition of your home: Owning a newer home may cost less to insure than a similarly priced older home as it is likely equipped with newer equipment and more modern safety features. The condition of older homes can be pretty wide ranging, and includes the roof, pipes, heating system, and electrical wiring. It's important to note that equipment breakdowns are typically not covered by homeowners insurance, but damage caused by a breakdown is covered in some instances.
Your credit score, age, and other personal information: No surprise here: A higher credit score usually results in a lower rate.
Recreational and potentially risky amenities: Some features such as a swimming pool signal potential risk for insurers, and your premium could reflect that.
Animals and pets: Your homeowners policy could be affected, either by a price difference or an exclusion, if you have pets or farm animals that are considered by some to be dangerous.
HOW CAN I SAVE MONEY ON HOME INSURANCE?
You could reduce the amount of your premium if you have security features such as a security alarm system, carbon monoxide detectors, and smoke alarms. Check with an insurance professional like your local ERIE agent about potential discounts.
WHAT'S A GOOD PRICE FOR HOME INSURANCE?
Shopping for insurance solely on price can end up being a costly mistake. You should compare costs of homeowners insurance, while making sure you have a clear understanding of what each insurer is covering. A great deal isn't so great if you end up shelling out a lot more money in the event of a major claim.
And after you've done your research and assessed your specific needs, you should be worry-free enough to relax and enjoy your new home knowing you're covered with the right insurance at the right price. Learn more about homeowners insurance from ERIE and request a free quote online.
WANT TO CONTINUE LEARNING ABOUT HOW HOMEOWNERS INSURANCE WORKS?
You might enjoy these related stories:
*Not all coverages are available in all states. Coverage is subject to terms, conditions, limits, exclusions and applicable deductible. See individual policies for specific coverage details and exclusions. Please refer to our disclaimer and talk to an ERIE agent for state-specific policy information.