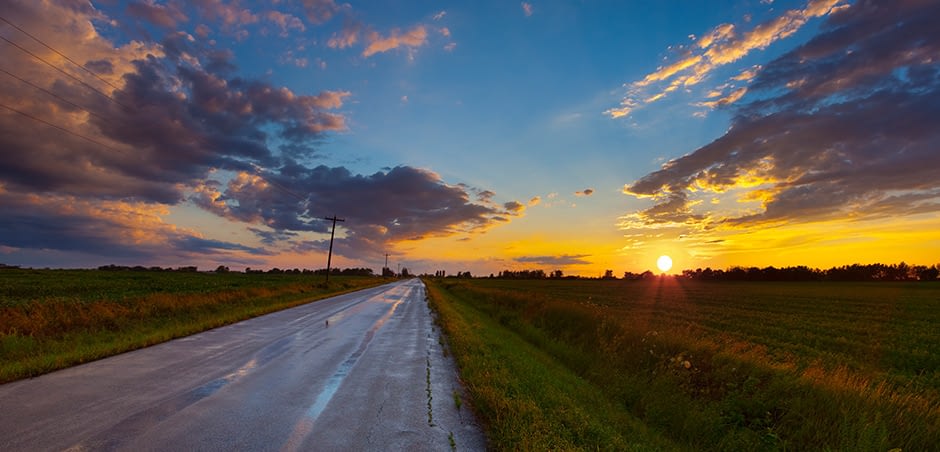 Can you remember the last time you drove for the sake of exploration? Or took the long way home on purpose? It's a freeing experience to drive down the interstate, onto rural routes, and through the tree-lined backroads of the countryside.
Thankfully, Wisconsin is home to many roads and byways that are perfect for your next scenic drive; you may even want to explore some diversions along the way! To make your life easier, we have built a list of our top five scenic drives in Wisconsin. It's time to pack some snacks, queue your favorite playlist and get lost in the natural beauty of your surroundings.
For a safe and memorable drive, make sure you have the right auto insurance to protect the vehicle that makes it all possible.
Hilltop Color Tour
Get ready to ooh and aah. From Wausau to Ogema to Neillsville, Hilltop Fall Tour cascades through three of Wisconsin's highest points and most breathtaking perspectives.
Kick off your journey with a trek through the Rib Mountain State Park near Wausau — This mountain is one of the oldest geological features on the planet at an estimated one billion years old. The sites are just as remarkable as the history. At the 60-foot observation tower, you can oversee Wisconsin River Valley's fall foliage.
The crazy views continue at Timm's Hill, near Ogema. I hope you're not scared of heights because this hill is 1,951 feet above sea level, the highest point in Wisconsin! Of course, with great heights come great views. Tim's Hill has another 60-foot observation tower where you can admire the hardwood forest trees and scampering wildlife.
At the Highground near Neillsville, you can drive through a natural paradise that highlights the colorful hillside and glacial moraines of Wisconsin. The Highground started as the Wisconsin Vietnam Veterans Memorial Project in 1984 and is now a large park dedicated to honoring, educating and healing veterans.
Kettle Moraine State Park
Between its natural landscapes, historical sites and geological landmarks, Kettle Moraine State Forest is a diversely stunning drive. The 115-mile route traces six Wisconsin counties. Begin the drive from the northern end near Elkhart Lake in Sheboygan County or from the southern end at Whitewater Lake in Walworth County.
There is a lot to see and do along your drive. For starters, you can explore some of the forest's many geological landmarks like Crooked Lake wetlands, Milwaukee River and Bluff Creek. There are also many historical sites on or near the drive like the Wade House, Holy Hill and Cushing Memorial Park.
Hayward Lakes Area
Whether you are on a peaceful family cruise, mudslinging adventure, or self-given tour, the Hayward Lakes Area is the place to be. Come in the fall and explore any of the six fall tours ranging from 45-70 miles in Sawyer County. Many of these vibrant driving routes pass through the Chequamegon-Nicolet National Forest, the Lac Oreilles Indian Reservation or the Blue Hills.
With all that Hayward has to offer you may want to come with time for plenty of diversions or turn the drive into a mini vacation. Visiting one of Wisconsin's most sought-after areas, you won't be short of accommodations, eateries and lively activities. Explore your wild side by taking an ATV ride through Chequamegon-Nicolet National Forest or kayaking on the Namekagon River.
Wisconsin's Great River Road
Wisconsin's Great River Road covers a remarkable area – it traces 250 miles of the Mississippi River and winds through more than 33 historic villages and river towns. It's no wonder that Wisconsin's Great River Road is a part of a nationally designated scenic byway.
Start your journey at State Highway 35 and follow the National Scenic Byway signs that mark the entire route. This drive covers all the sites: limestone cliffs, rugged bluffs, river valleys, natural overlooks, savannas, forest and more! Experience the orange, reds and yellows of fall foliage, the white carpet of winter snow or the neotropical songbirds of the springtime.
But that's not all. Along with breathtaking sites, the Great River Road is steeped in history. For thousands of years, ancient cultures lived along the Mississippi River in Wisconsin. Today, you can tour some of the famous sites like Villa Louis in Prairie du Chien and Cassville's Stonefield.
Heritage Drive
The Heritage Drive Scenic Byway is a 15-mile drive packed with beauty and history. Soak in the stunning mix of giant hemlocks, fresh pine and freshwater lakes.
The byway was once known as the Military Road. It was built to transport guns, ammunition and troops through the Nicolet National Forest in case of English invasion from Canada. As you explore the byway, you will find military routes from the Civil War, Native American archaeological sites and other historical points.
The drive takes 2-3 hours with most of the time spent on Butternut Lake Road/Forest Road 2181 and Military Road. If you have a little more time on your hands, check out the hiking trails and various picnic spots hidden amongst the forests and lakes.
Have fun and stay safe
Now that you have the inside scoop, you are ready to explore Wisconsin's vibrant charm. Some of the best memories are made on the road and we don't want you to miss a second of it. See how auto insurance from ERIE can help ensure your leisurely drives continue by protecting you and your loved ones as you go the distance.