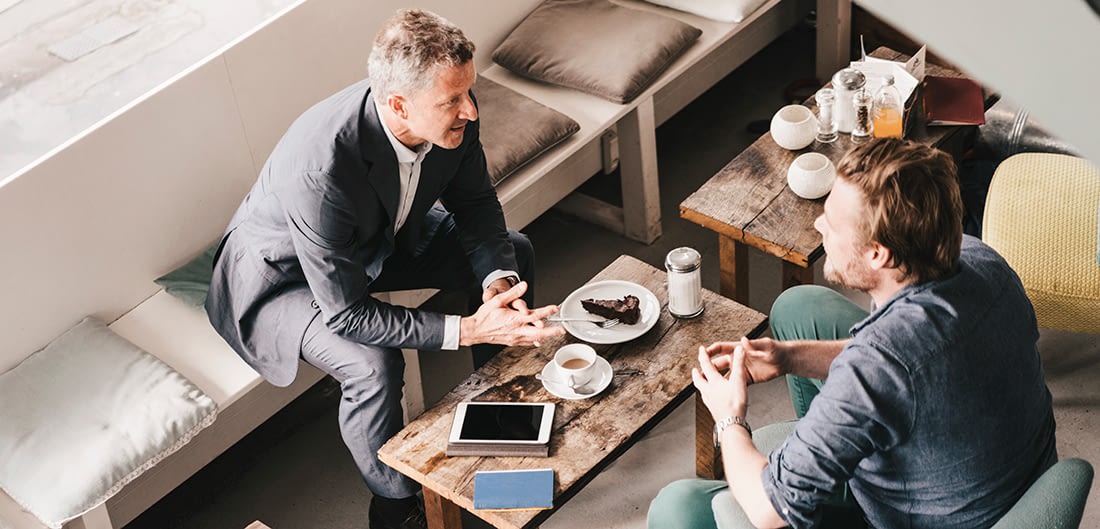 In business, as in life, it always helps to get advice from someone who's been there before. But while you may have asked a friend to share their wisdom when it comes to parenting or personal finance, it's less common for entrepreneurs to seek out advice on managing their business.
That's where a business mentor comes in.
Finding a trusted adviser to share wisdom and experience can help you make better decisions as you navigate the ups and downs of being a small business owner.
Related: 5 Books Every Business Owner Needs to Read
It can be hard to ask for help. But don't let your pride get in the way of learning from the successes – and mistakes – of others. Remember, even the most accomplished business owners were rookies at some point. Seeking out a mentor for your business can help you overcome challenges before they impact your bottom line.
How can a mentor help? Let's say you're dealing with an unproductive employee. It might be tempting to vent your frustration to your staff. But this could cause tension among your workers, making them even less motivated to perform – and costing you more time and money.
Talking to a mentor, one with more experience leading others, can help you channel that frustration by developing a plan to solve the problem.
How to Find a Mentor
You're looking for someone trustworthy, experienced and willing to walk alongside you. But how do you find them?
Here are couple ideas on how you can start making connections:
Networking events: Experienced professionals know the value of networking. Chances are there are dozens of networking events already scheduled in your area. Try attending one to make new connections and talk to as many people as you can.
Social media: It's easy to see who is active on social media, what their business is doing and if they'd be willing to offer advice. Check out platforms like Twitter and LinkedIn. Sending a private message is a great way to reach out and start a conversation.

Related: 7 Steps for Using Social Media to Grow Your Business

Daily activities: Social media can help you find mentors across the country. But sometimes, you might not need to look any further than your child's soccer game or a neighborhood block party. Start asking around to see if there are any business owners in your existing network of relationships. A mutual acquaintance of your family or friends may be more than willing to help.
Volunteering: Doing work in the community is not just good PR for your business. It's also a great way to meet people who are invested your area. Not only could you meet a mentor, you can learn from anyone you volunteer with, from students to retirees.
Indirect competitors: Being mentored by a competitor sounds counterintuitive, but competitors can share valuable experience gained from a career of working in your industry. Check out your industry associations to see how you can start making new connections. Just be sure to seek out businesses that don't share your market area or clientele.
Building the Relationship
Like a small business, building a mentorship takes time and effort. Depending on your mentor and your goals, the relationship could be a short-term or long-term commitment. But before you can truly learn, you have to make sure you respect each other's time and energy.
Once you've found a mentor, follow these tips to build a healthy working relationship:
Set your expectations. An initial meeting over lunch, coffee or drinks is a safe way to have a conversation about your needs. Choose a place that is comfortable and convenient for you both. Then, ask if they'd be open to mentoring you. Talk about what you hope to gain from the relationship, and why you want to learn from them. Be clear about your goal so there is no confusion about the commitment or expectations.
Set a time and place. It's best to meet consistently to talk about mentoring topics. Setting a recurring time and place for your meetings creates healthy boundaries and shows that you're both committed to the mentoring process.
Be flexible. Your mentor is meeting with you because they believe in you. This isn't a paid consulting relationship, so avoid setting any rigid or formal expectations. Be confident in asking your mentor questions, but always be respectful of their investment in you.
Your ERIE Agent Can Be a Mentor, Too
Building your business is a learning process, so it's important to have a team that's invested in your success. We know choosing the right insurance can be complicated – that's why every ERIE policy comes with a local agent, there to answer any questions and guide you through the process.
Your local ERIE agent is a business owner in your community, just like you. He or she knows what it takes to keep a business running and what you need to protect it, like the risk control services and programs that come with your ERIE business insurance policy.
If it's been a while, ask your agent to check in for a coverage review. New to ERIE? Contact your local community agent.